Featured the Honorable Judge Philip Pro (retired)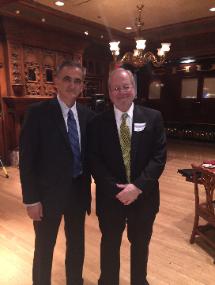 Hon. Judge Philip Pro was the speaker at Thursday luncheon in the very nicely set up venue at the Main Street Station Hotel in Las Vegas. Besides the NCFR members, attendees were some of community leaders, judges, lawyers, business and other interested people in the topic.
After introducing an agenda of the luncheon Paul Ray, "Center"'s COO, greeted guests, Judy Hill, Vice President and Board member of American Committees on Foreign Relations and Jane Brimmer, Board member of American Committees on Foreign Relations, dignitaries from local community and others.
Debra Sam King, President of the "Center" talked about the "Center", thanked for a support and invited attendees to participate in the Center's activities and future events. Senad Hrustanovic, Chairman/CEO of the"Center" briefly revisited a history of the Center before he introduced the Judge Pro and congratulated him on his new appointment to the Nevada Gaming Commission.
Judge Pro talked about his personal experience visiting and working with different judicial systems and their representatives abroad. He stressed out importance of being patient in understanding local legal systems, cultures and a decision making process. He talked about his particular interaction with different legal and judicial systems all over the World.
The history, culture, and values of each country are reflected in their laws. Although the structure and nomenclature of various governance and legal systems throughout the world may vary in several respects, the principle of the rule of law transcends these differences. Virtually all stable democratic countries provide a means of fairly resolving disputes in accord with established legal standards which the citizens of that country generally accept as legitimate. However, the legal systems in some countries, particularly post-conflict, authoritarian, or otherwise unstable developing countries, face significant challenges in achieving a society in which the rule of law meaningfully exists. Judge Pro stressed the NCFR effort to educate people through these and similar activities is very valuable and should be supported.
Judy Hill, Vice President of American Committees on Foreign Relations emphasised that Judge Pro words about the NCFR role should resonate in community.